Update - 27th November 2014
The Little Lady - Jeep
Over the past few weeks, we've been making steady progress on the replacement body tub for 'The Little Lady'. This tub was imported from Australia and seems to have had an agricultural life, with copious amounts of filler and some rather patchy repairs.
This means lots of work with the angle grinders and wire brushes, then painting the bare metal to protect it. After that, we can work on welding in new sections.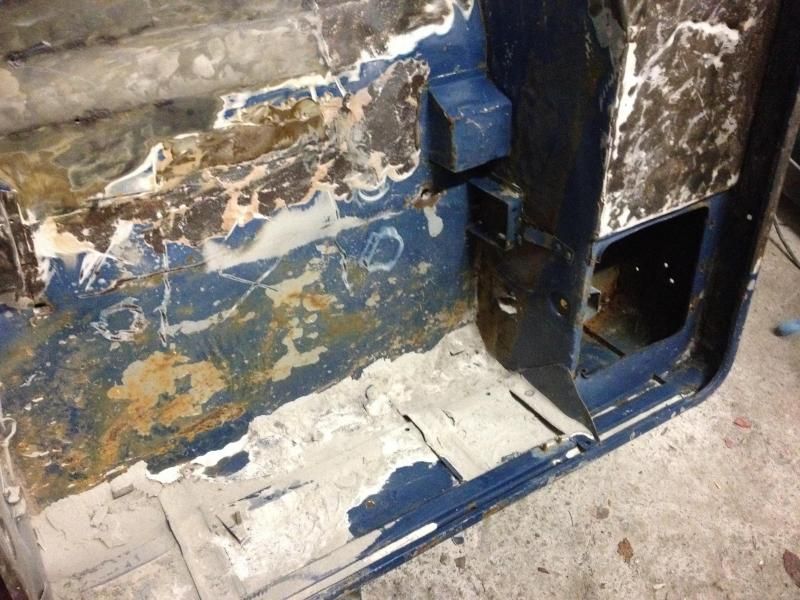 The above photo gives an idea of how much filler was in the floorpan alone!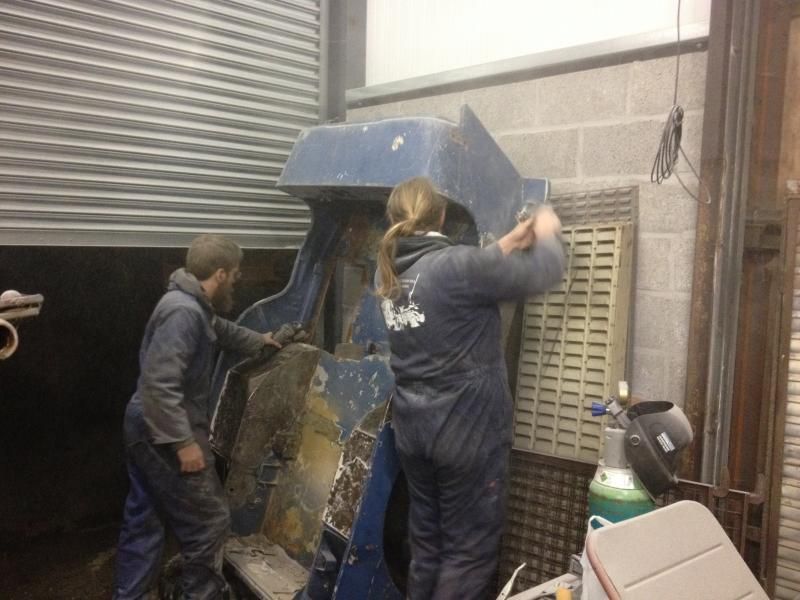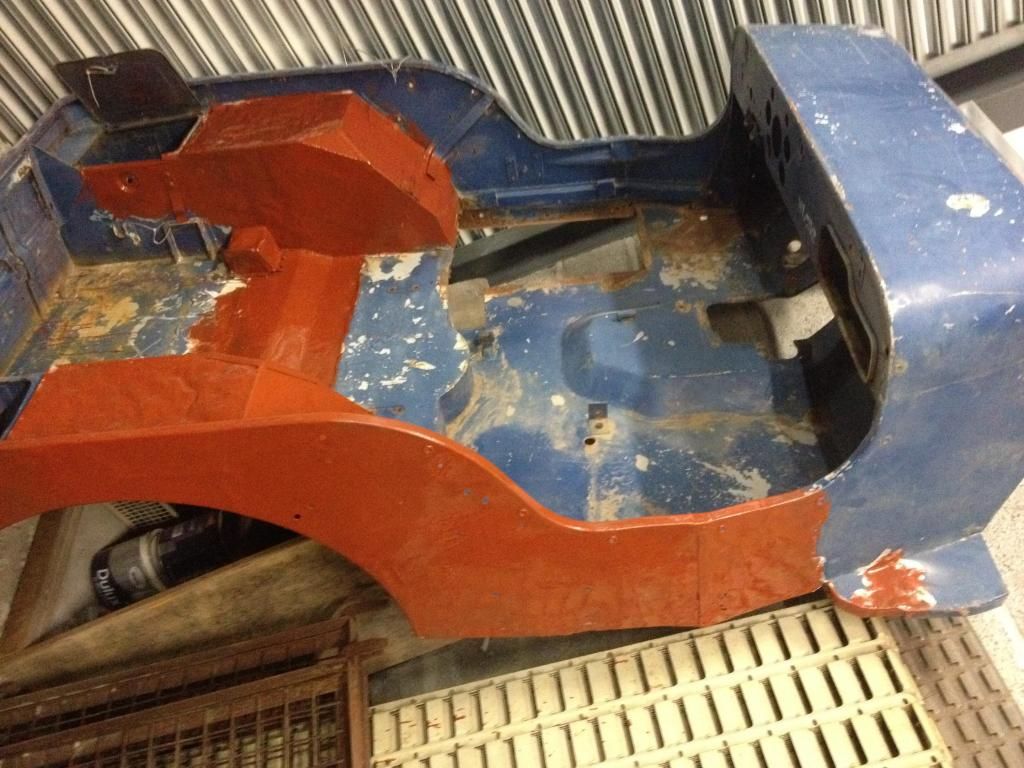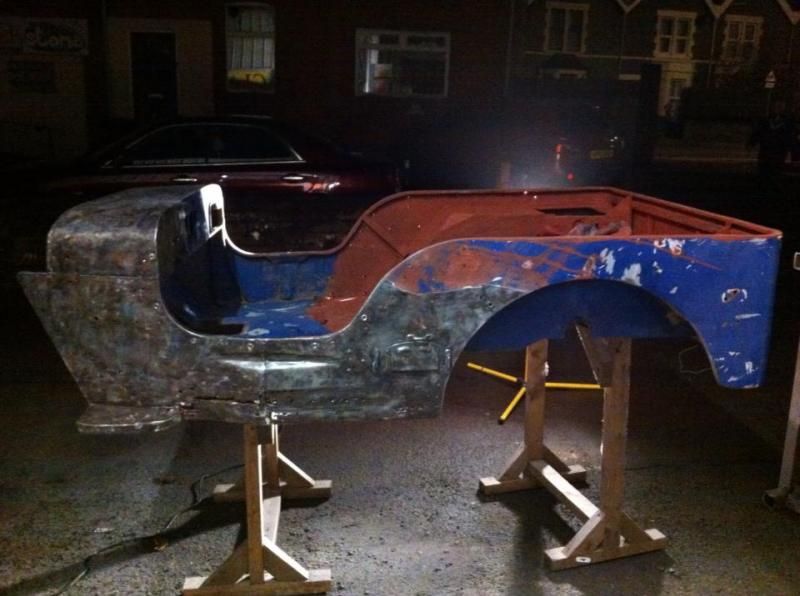 Torpedo
The Torpedo Team have given the demonstrator a lick of paint, starting to look very smart.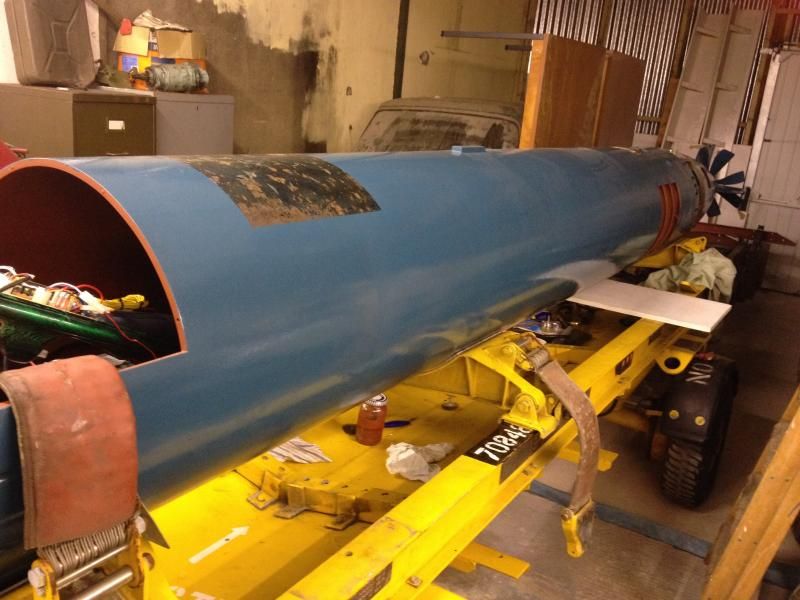 Update - 29th September 2014
4.5" Gun
Here's a few pictures of the elevation gear for this gun, which was salvaged from the donor saddle, and the stuck bearing currently causing us grief.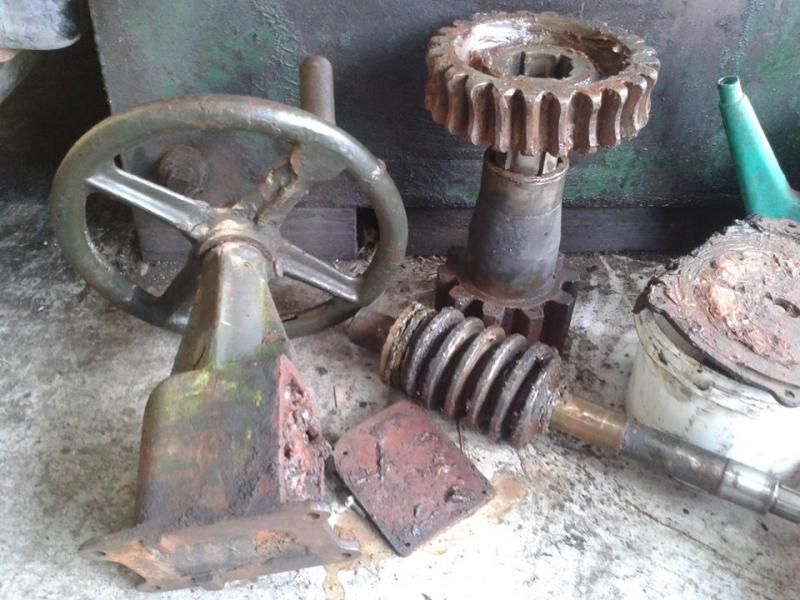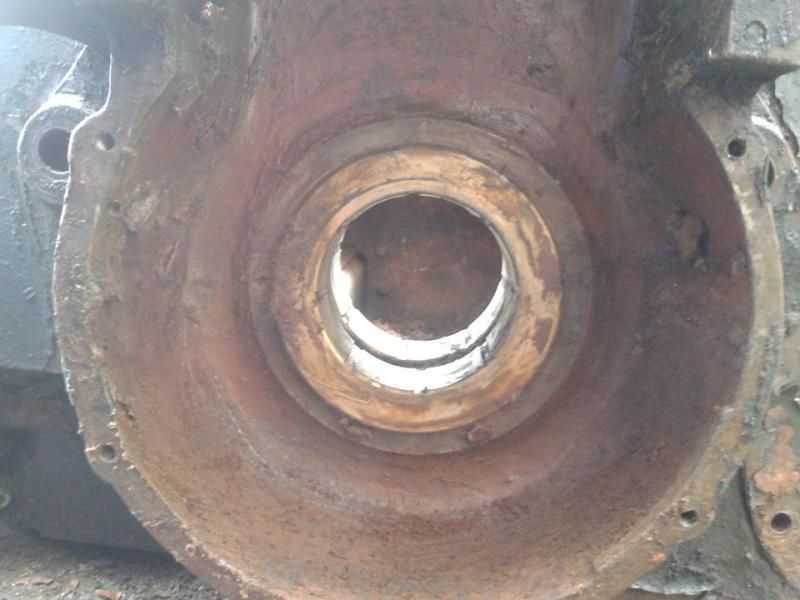 AEC Matador Timber Tractor
Another small, but necessary, task completed - the parking brake!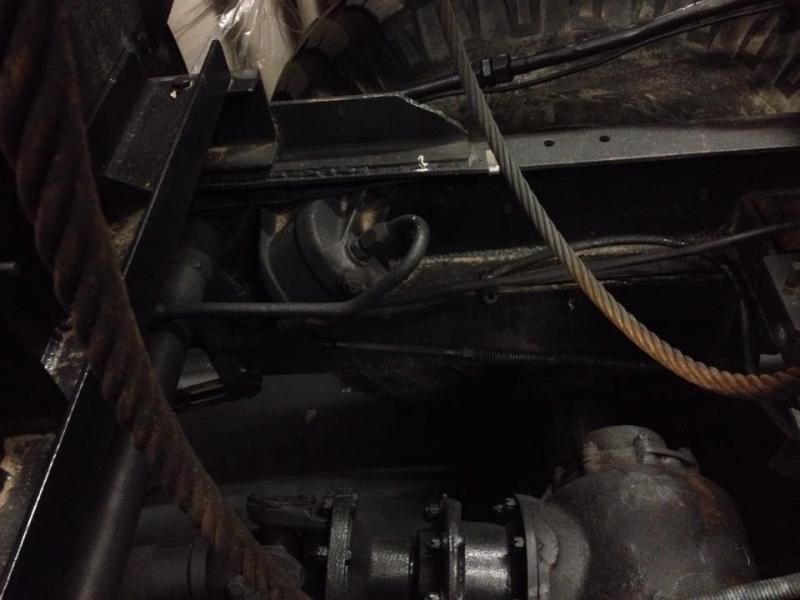 Crowdfunder Campaign
Over the past few months the staff at the Shopland Collection have been busy promoting the Dig for Victory Show Crowdfunder project to raise money for next year's show.  The campaign ends on the 10th January so please take a look if you haven't already and share with your friends.
2014 - Making Tracks
With the New year came the news we reached out target on Crowdfunder and hence the Dig for Vicotry Show has been confirmed for the 5/6th July 2014.
The move to the North Somerset Show ground is a massive step for the Collection and so we really are making new tracks.
If you would like to help or support us at the show by volunteering or sponsorship please get in touch. Every little really does count.
Happy New Year one and all.
Update - 17th September 2014
Another evening, a few more jobs done.
AEC Matador Timber Tractor
Off with the old, slightly noisy exhaust, turns out there was a 'little' hole in the backbox....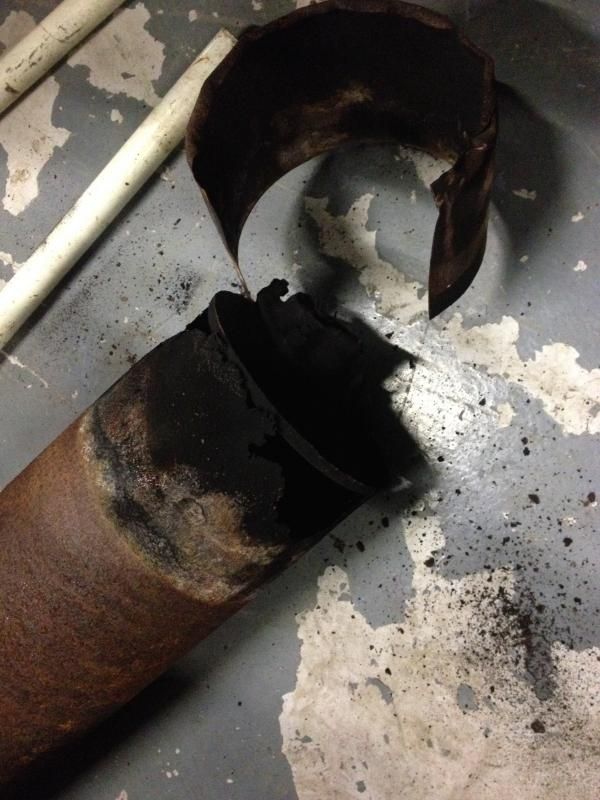 Raiding the scrap pile, Rich rustled up a suitable replacement. Welded together, and mounted up, just needs a coat of black paint to make it less conspicuous!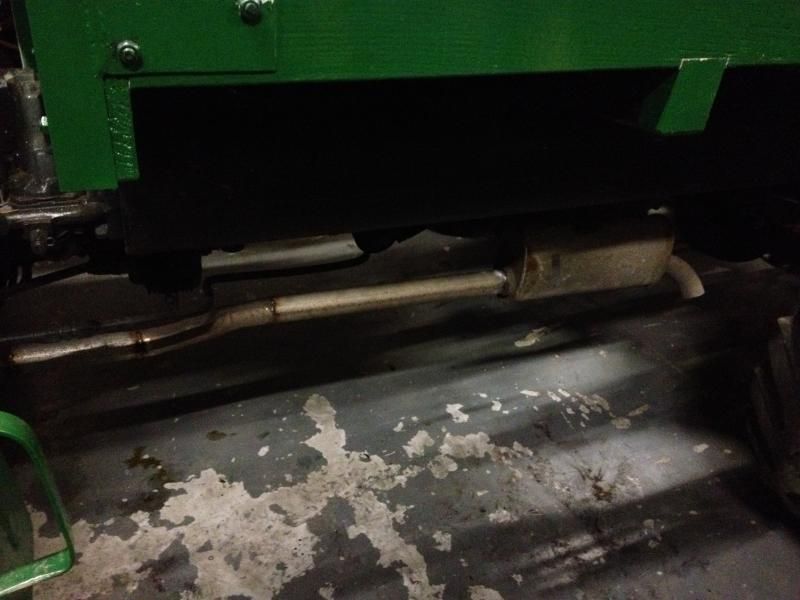 4.5" Gun
We're going to need to move this soon as we are re-organising the workshop space after the departure of the Staghound. With this in mind, it's a good opportunity to finish all those little jobs that could otherwise hold us back. Various odds and ends are being cleaned up and primed.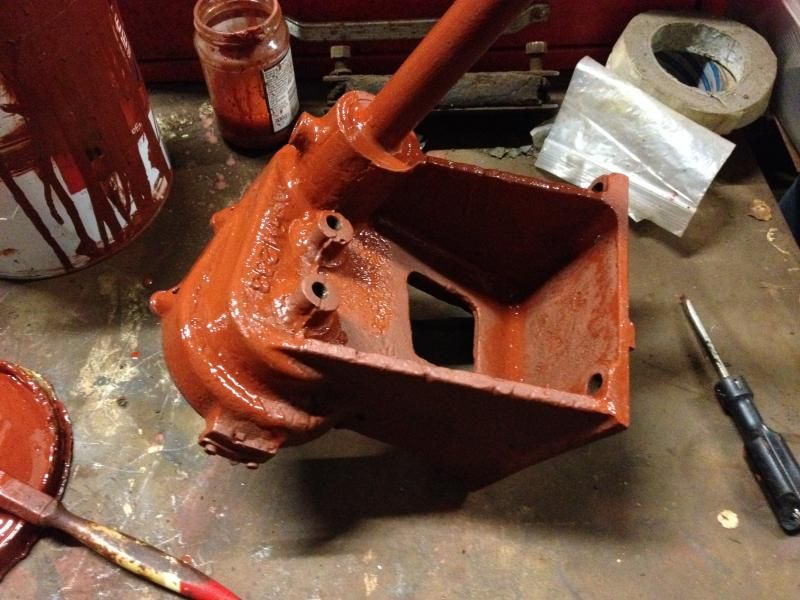 Torpedo
In order to fit the warhead, we needed to relocate the torpedo on the trolley - the warhead is about 6' long so the whole lot needs to be mounted far back enough to prevent it hitting the tow vehicle!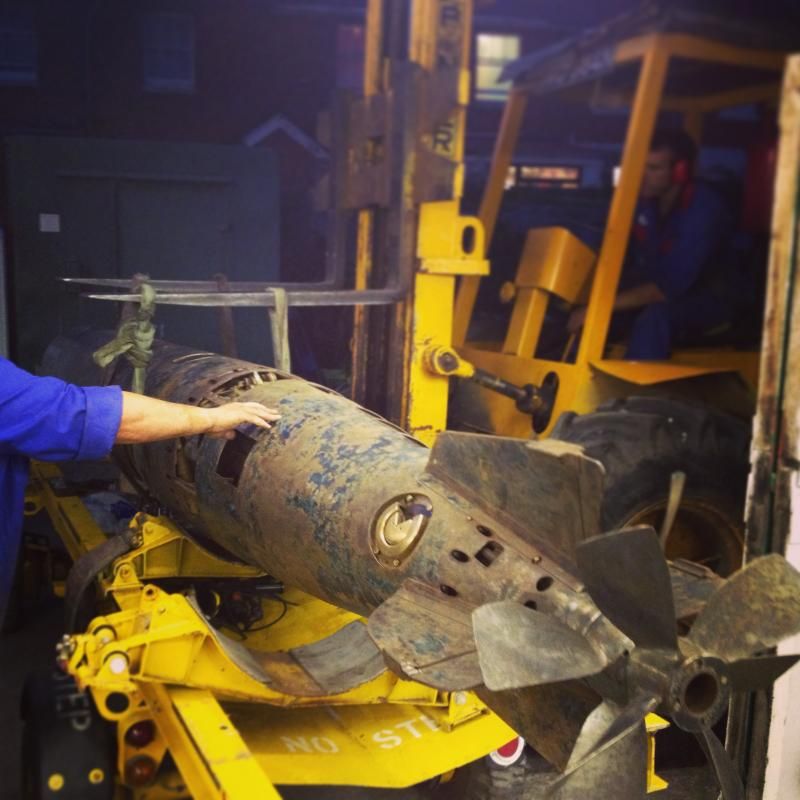 The torpedo itself has now had primer applied too. It's getting there!